May 30, 2017
Indivisibles,

It's congressional recess, and local Indivisible groups across the country are doing amazing things to make their voices heard. Here's the game plan this recess:
This recess is a test: get loud on TrumpCare
For the next six days, Congress is in recess, meaning Senators and Representatives are back home in their states and districts. Behind closed doors, Republicans in the Senate are weighing whether to protect the well-being of their constituents, or give Donald Trump a win on TrumpCare. And what they decide to do is going to greatly depend on what they hear this recess. Make sure you know the facts: check out our new resource, Is your Republican Member of Congress lying to you about Trumpcare?
Many Members of Congress (MoCs) are too chicken to hold a real town hall, but that doesn't mean you're powerless. You need to make sure they aren't cutting a ribbon or kissing a baby without running into a huge wall of people demanding answers on health care. Here are some questions to get you started, and remember: everything you need for recess is on our new central recess resource page: recess.indivisibleguide.com.
Policy priorities
Get up to speed on this recess' policy priorities here.
March for Truth on

June 3rd

in more than 100 cities across the country
We are proud to join with the organizers of March for Truth and partner organizations to raise our voices in over 100 cities across the country to let our elected leaders know that America deserves answers. You can join by finding your march and chipping in a few bucks to make it a success.
Want to look super cool while standing indivisible?
You've got only two more days to buy your Indivisible t-shirts! Deadline to order is this Thursday, June 1st. All proceeds go to support Indivisible's work, but you get to keep the compliments you get!
Need some inspiration? Local groups are standing indivisible across the nation.
In Texas, groups from all over the country showed up at the Texas Capitol to protest the monstrous SB4 and stand in solidarity with immigrants and groups like United We Dream, Color of Change, and Voto Latino.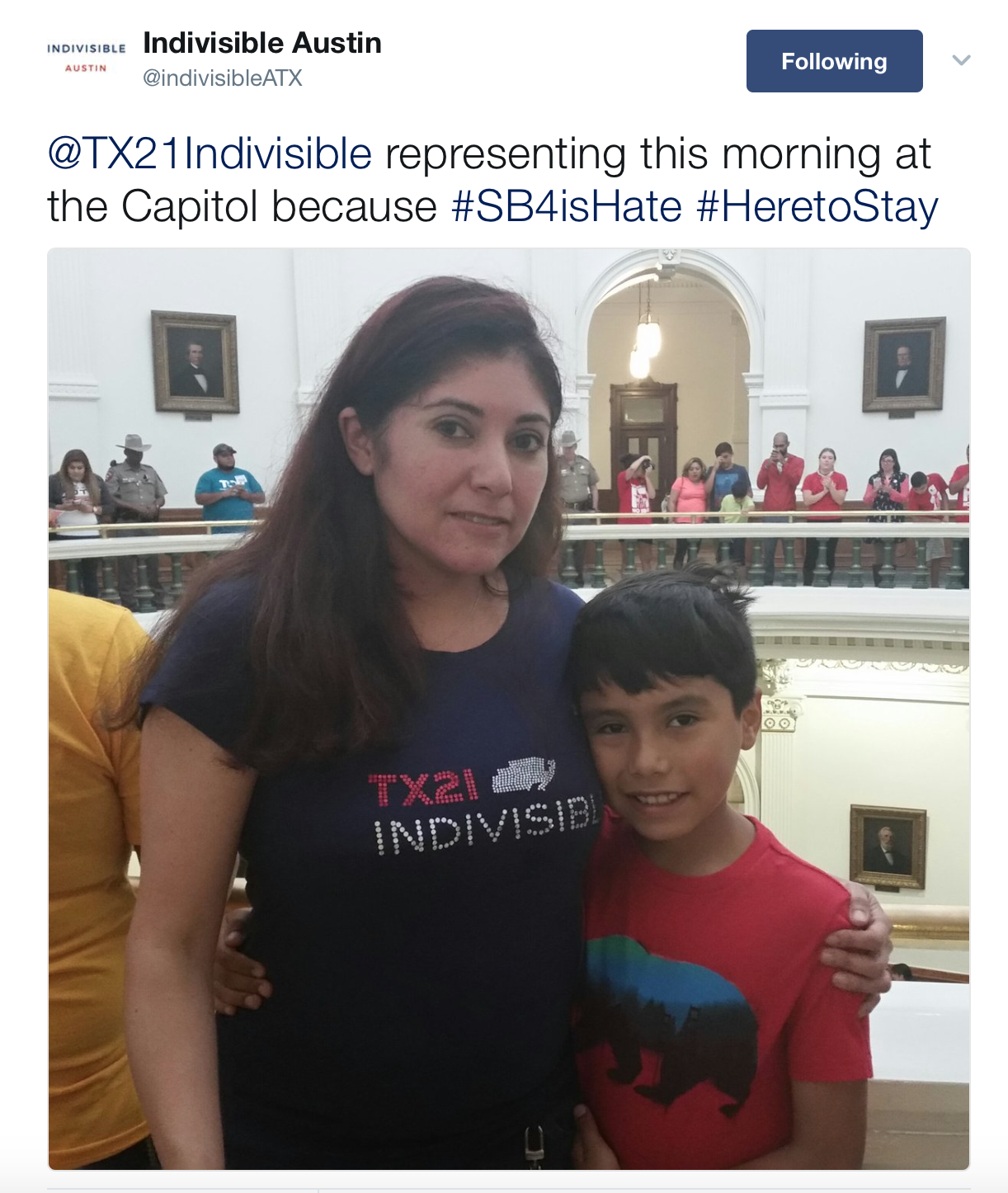 In Northern Virginia, several Indivisible groups worked together (looking at you, VA-10) with activists from Planned Parenthood and others to protest the PGA championship event at Trump's golf course. The New York Times took note and we got another look at one of our favorite types of constituent action: kayaktivism!
In Texas, groups from seven cities—Austin, Dallas, Harlingen, Houston, Lubbock, San Antonio, and Tyler—are taking part in the Great Cornyn Stakeout all day for four days to hold (perpetually missing) Senator John Cornyn accountable on an independent commission to investigate the Trump administration's Russia ties.
Indivisible Illinois and Indivisible groups from across the state came together to launch a billboard campaign to hold four of their Republican House members accountable for their vote on TrumpCare. You can learn more and give at: bit.ly/signsforsellouts.
And groups across the country—from Cincinnati to Kansas City—showed up to tell their Senators to reject TrumpCare and support an independent investigation on the Trump Administration's ties to Russia.
In solidarity,
Ezra Levin
Executive Director, Indivisible Project
P.S. Wondering how many people in your state will lose their care because of TrumpCare? Curious about how much your premiums would go up next year if Trump and the GOP got their way? Check out all or the great state graphics from our friends at Indivisible Data on Twitter. Follow them for more social media shareables that you can put to use to hold your members of Congress accountable.
---
*This is posted for the benefit of the Indivisible National Organization. It should be noted that Progressive Ways has never solicited funds or receives any benefits from these postings