July 1, 2017
Indivisible Group Leader,

On this Independence Day weekend, we're reminded of what makes our country so great—Americans like you, whose love of country and belief in democracy drive you to fight to protect the values we all cherish. There's lots to do this week to make sure that we bury TrumpCare for good, but we hope you find some time to have a relaxing Fourth of July.
Find out where your senator will be on

July 4th

—be there. Even if your senators don't have a town hall planned for recess, many senators will have schedules filled with parades, festivals and other events for the

4th of July

. These are a fantastic opportunities to ask your questions about TrumpCare, and to get local press protesting if the senator won't commit to voting against. Call up the senator's office

on Monday

and ask where the senator plans to be on

July 4th

. Be friendly. They should have plans already, and they should tell you.
Be a consistent presence at district offices. Indivisible groups have been doing district offices visits for months now, and it's critical to keep up the pressure and make sure your MoC and their staffers can count on your group to be there consistently. Remember: nothing is more impactful than this kind of in-person action.
Keep those phones ringing. The phones in congressional offices across the country have been ringing off the hook—this has real impact. Your senators are tallying the number of calls 'for' and 'against' TrumpCare. We need an overwhelming majority to call in against. Urge group members to make calls each day, and maximize your impact by sharing contact information for your MoC in as many venues as possible.
New recess resource page
Everything you need to make this a successful recess can be found at recess.indivisibleguide.com—including more info on this week's to-do list, call scripts, and explainers.
As always, don't forget to register all your events on our website; we will be able to help you recruit new Indivisible group members, and people from other organizations… and we'll be able to notify our press team of your event!
Celebrate This Week's Win
There's a lot of work to do this recess, but let's take a moment and reflect on what just happened. Up until this week, it looked like the Senate version of TrumpCare was moving rapidly towards a vote. Because of your pressure, Majority Leader Mitch McConnell does not have the votes he needs to pass the bill. The Senators that YOU have been pressuring are the ones who will not commit to a vote on this bill.
Your constituent power is working. After consistent pressure and a coordinated action across Maine, Senator Collins is saying she's a NO to TrumpCare. Groups across Ohio did die-ins across the state and even drove to DC to confront Senator Portman—and since then, he has come out against TrumpCare. While Indivisible groups in Alaska were doing a sit-in at Murkowski's office, Senator Murkowski expressed her hesitation about voting for TrumpCare.
Congratulations on a tremendous achievement. The forces of your grit, smarts, and creativity made it impossible for them to jam through a bill this week that would cut taxes for billionaires at the expense of everyone else. That's the power that you built from scratch. Many Republicans have been promising to dismantle the ACA for years, and this week we demonstrated that even though they have majorities in Congress, they don't hold all the cards.
Weekly How-To Resource: ICYMI Edition
This week we're doing a special recess week rehash of some of our how-to docs to make sure you know everything we've got for you. It's a holiday weekend, which means it's a good reminder to exercise some self care by checking out tips for making advocacy work for the long haul. You may also be thinking about how to recruit new people you meet over the recess: check out our tips for recruitment. And as an important reminder about staying safe during your advocacy, check out our resource on your rights during a police encounter.
August Is Upon Us
This week is just a mini-recess compared to the five week break coming up in August—and your biggest opportunity yet to meet your Members of Congress at home. We are working on a new toolkit to help you make the most of August recess, and we can't wait to share it with you… and get it to you early enough to help you plan in advance!
Awesome Indivisible Groups Doing Awesome Things
Indivisible groups across the country kept up the pressure on Senators this week—and your efforts have gotten more and more creative.
Indivisible Midlands created a music video asking their Members of Congress to marry them (to get on their healthcare plans!).
Some members of Ozark Indivisible flew all the way to DC and did a sit-in at Tom Cotton's office.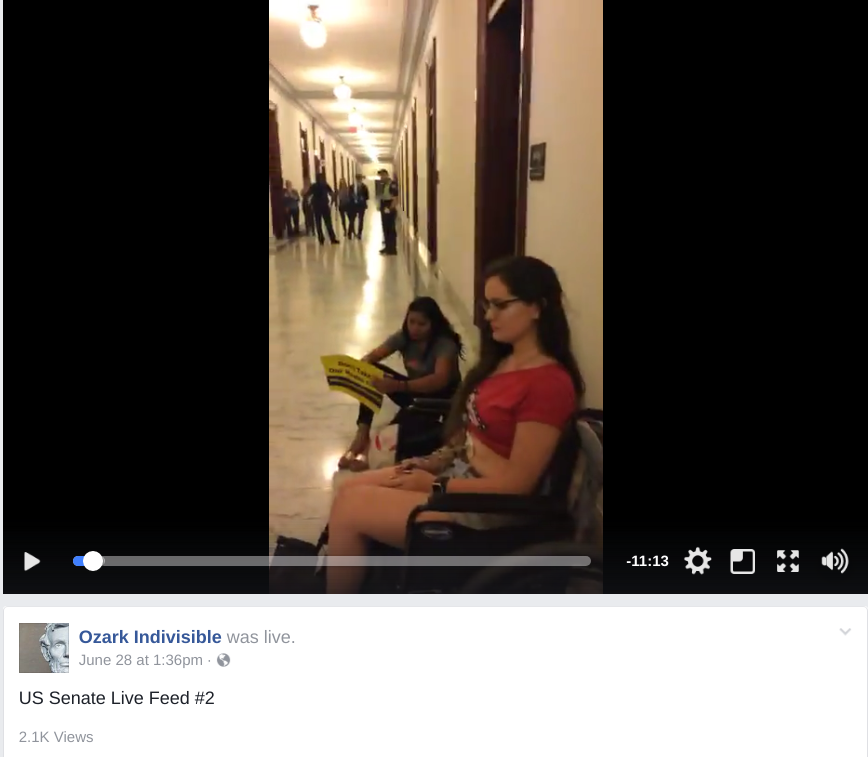 In Colorado, Indivisible Denver and Indivisible Front Range Resistance came together to have a successful candlelight vigil outside the state capitol.
Everything you've done over the last few weeks brought us to this point where the vote has been delayed. Have a fun and restful Independence Day with family and friends, and keep standing indivisible over this next week. Together, we will win.
In solidarity,
Isaac Bloom
Organizing Director
Indivisible Project
---