July 10, 2017
Dear Indivisibles,

Mitch McConnell desperately tried to avoid delaying the TrumpCare vote because he was worried public pressure would mount and weaken support in the Senate. That's exactly what happened. Indivisible groups across the country spent the 4th of July congressional recess week fighting for our health care—and it's working:

The fight's not over yet, but it's clear that Senators are starting to listen to their constituents instead of blindly supporting TrumpCare. We don't expect that the Senate will vote on TrumpCare this week, but the vote could come the week of July 17. Local constituent pressure now will determine the political outcome later this month. Here's how to keep it up:
Your back-to-session to-do list.
Everything you need to continue pressuring your senators to reject TrumpCare is available here.
Mark your calendars: possible markup (committee consideration) of budget resolution (Wed/TH). The House's FY18 budget resolution (i.e. federal spending targets for the 2018 fiscal year) may include more devastating cuts to entitlements and non-defense spending, and set the stage for tax reform.
Take action to stop the Kobach Commission—a ruse using false allegations of voter fraud in order to suppress voting rights.
Red, White, and You… Did It Again.
This July 4th recess was incredible thanks to your creative tactics and commitment to holding your members of Congress accountable… everywhere.
Indivisible groups organized more than 100 unique events around the country, many focused on health care…
Indivisible MDI's candlelight vigil in Bar Harbor, ME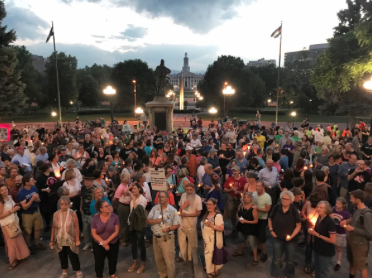 Indivisible Denver Rally in Denver, CO
New Orleans, LA
While many Members of Congress kept a low profile this July 4th, Indivisible groups didn't give up. And, when they found them, Indivisibles held their Members of Congress's feet to the fire…
They told them to "Stay Strong!" where it mattered most…
Eastport, ME
They marched in fourth of July parades across the nation…
Sausalito, CA
Chicago, IL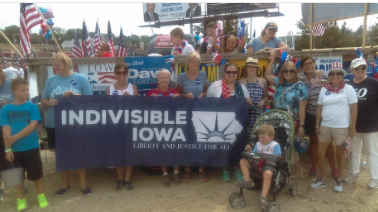 Iowa City, IA
Oregon
And when a rare missing Republican Senator did show up at a town hall, they gave them an experience no member of Congress could soon forget. (h/t Kansas!)
It's the billionaire astroturfers versus us. I'm betting on us.
When it became clear that Indivisible's local pressure was working and Sen. Heller (R-NV) was wavering in his support of TrumpCare, a shady new pro-Trump group called "America First Policies" announced a million-dollar TV and radio advertising campaign against Heller. They want to scare him into supporting TrumpCare.
We're fueled by you. Look, we knew that this was never going to be a fair fight. The other side has billionaires who are fueling attacks against popular opinion. But they can keep their astroturf. We have something better—the people are with us; and we have you. As we've written in our fundraising philosophy, the single largest source of support we get is from small donations.
Check out this amazing statistic: During the July recess alone, Indivisible got over $16 million in media coverage. To be clear, we didn't pay a dime for this local and national coverage of Indivisible in TV, radio, and print. No, we EARNED this public media attention together, through hard work of local indivisible groups and the national team alike.
Indivisible pressure —> media coverage —> political impact. If you're asking yourself why Senators are suddenly bowing to public pressure on TrumpCare, it's because they read the same papers and watch the same news shows as everyone else. And when they open up that paper or switch on the TV, it doesn't matter what state they represent; they all see the same thing: Indivisible.
We're incredibly proud of what we've been able to accomplish together. We want to do more. We want to fight back harder. We want to reach more indivisibles. We have scratched the surface on what is possible with a skeleton team in place, and we need your support to build it out so we can have more coverage across the country and more dollars to get even more Americans fighting with us. If you can, chip in a few bucks to build the momentum, help us hire new organizers, and expand our digital campaign work.
The next three weeks are critical in our fight to stop TrumpCare. And we're confident that, together, we will win.
In solidarity,
Angel Padilla
Policy Director
Indivisible Project
---