August 19, 2017
A Summary of This Week's Indivisible Actions:
---
Dear Indivisible Group Leader,
This has certainly been a tough week for all of us, especially for those who feel most threatened by the hate espoused by white supremacists last weekend and then condoned by Trump in a shocking and appalling press conference. Our spirits were lifted when thousands of you came out to organize over 900 events last week in your communities to show that you stand against hatred and bigotry.
With a White House that emboldens hate groups like neo-Nazis and the KKK, our conviction to stand against racism, bigotry, and oppression must remain strong. We are most powerful when we are united, which is why we are working with organizations who have been leading the racial justice fight for years to support them in their efforts. We encourage your groups to be supportive partners in your communities — our first priority for groups this week.

Seattle, WA
Toolkit to help your group fight white supremacy head-on.  The openly violent acts motivated by racism and nationalism in Charlottesville were another example of the threat we face from white supremacist groups and their hateful ideology. We must confront white supremacy in all its sinister forms, and we've got ways to take action this weekend. You can also take a look at our new toolkit on how to stand indivisible against white supremacy on your home turf.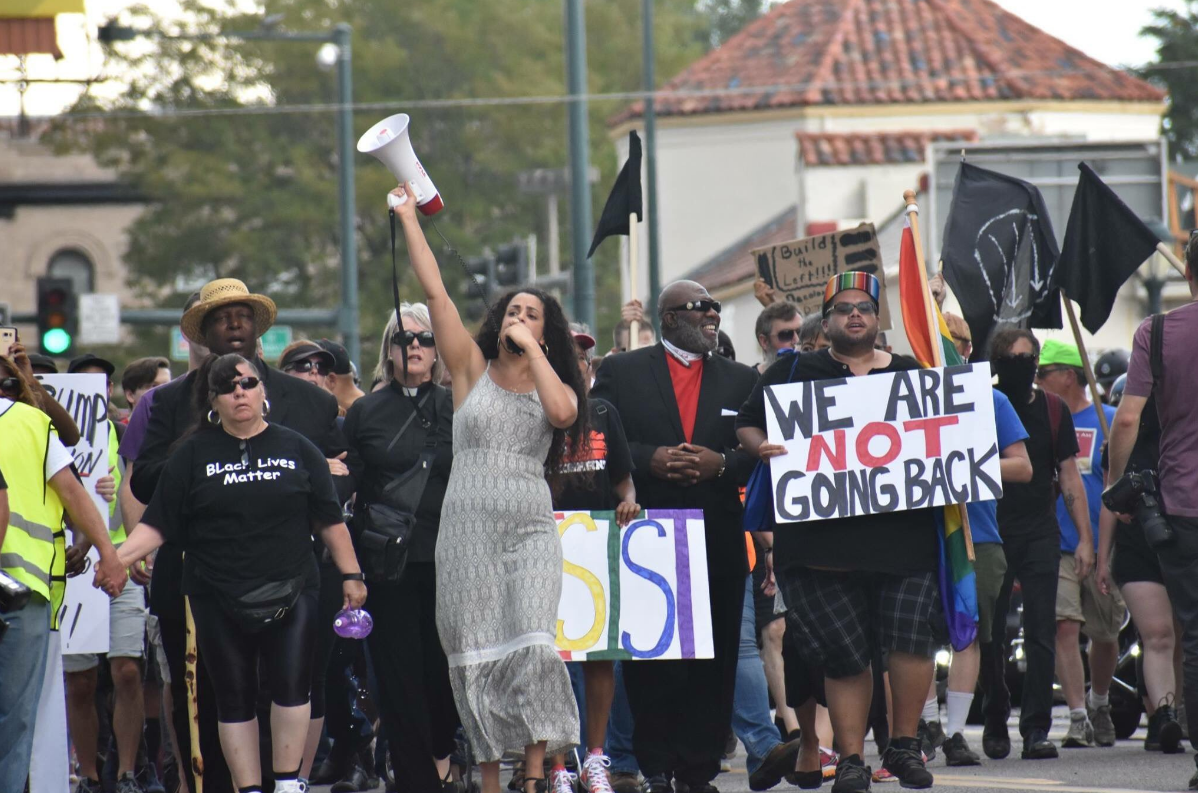 Denver, CO
Attend an anti-white supremacy event in your area. Our friends at the Movement for Black Lives are organizing a national day of action today: "Confronting White Supremacy from Charlottesville to the White House." Part of being a good ally is showing up. We encourage you to attend an event in your community; you can find a list here.
Join the emergency mass organizing call. Tomorrow night, Indivisible is joining MoveOn, Color of Change, the Working Families Party, the Center for Popular Democracy, People's Action, #Resist, and other movement allies for an emergency Ready to Resist mass organizing call dedicated to a discussion of white supremacy and how to fight it.
Click here to RSVP for the call this Sunday, August 20 at 8 p.m. ET/7 CT/6 MT/5 PT.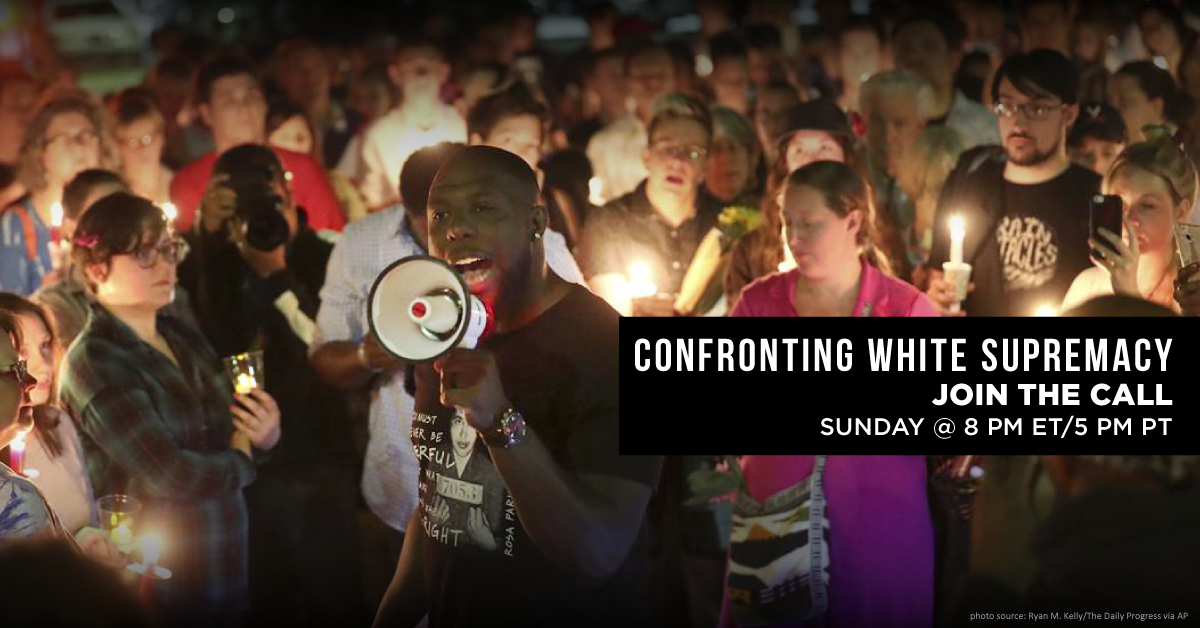 You'll receive a phone call at the number you provide on the RSVP page at 8 p.m. ET this Sunday, or you can stream the call live via the link you'll see when you register.
Focus on inclusion (we've got new resources to start the conversation). Donald Trump could only have come to power in a society that has consistently devalued the lives and dignity of historically marginalized groups, such as people of color, immigrants, queer people, and women. This means that resistance cannot consist just of fighting back against Trump. Rather, we have to work to overturn the patterns of injustice that helped Trump rise to power.
In light of the events over the past week, we need to be centering the voices that are most impacted and following the lead of groups that have been focused on racial justice for years.
We've put together two new resources to support the conversations surrounding inclusivity already happening in your groups.
These resources are just a start. We'll be providing additional information in the Facebook Live on Monday and recommend that you open this conversation in your group (if you haven't already).

Ferndale, MI
Tune in to 
Facebook Live
Monday 8/21 at 8 PM ET

/5 PM PT
This week's Facebook live will focus on racial justice in light of Charlottesville. We encourage all groups to tune in for this timely and important discussion.

Demand your MoCs denounce white supremacy. Congress is still out on August recess. But just because they're out on vacation doesn't mean they can sit on the sidelines while our nation faces a critical moment of truth. Did they condemn Trump's shameful comments in support of Nazis? Great, they've done the bare minimum. But that's not nearly good enough. Have they called for hearings into white supremacy? Have they demanded that Donald Trump fire ALL of the white nationalists that advise him in the White House? Have they committed to removing confederate statues from the halls of Congress? There should be no doubt to anyone where they stand. We have a new resource with four concrete congressional asks you can be making to ensure your MoCs are taking a stand against hate.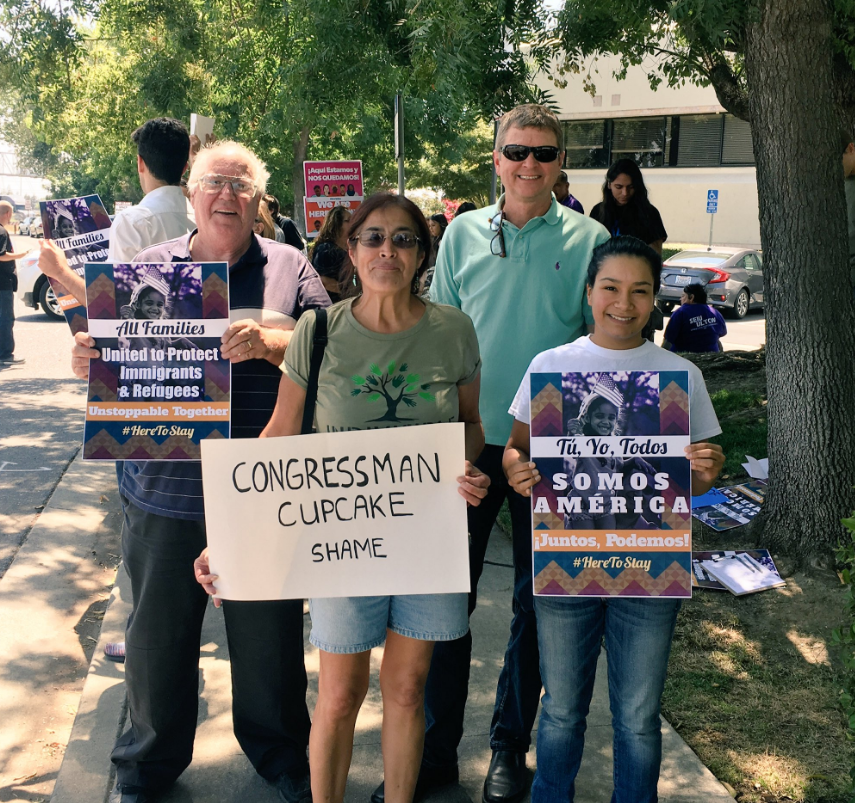 Thank you for standing up for DACAmented youth. "We're here for support." On DACA's anniversary, Indivisible Little Rock and Central Arkansas accompanied a local advocate to a meeting at the Arkansas Attorney General's office, where she read letters from DACAmented Arkansans. Indivisible Manteca stood tall outside Rep. Jeff Denham's office. Indivisible Gainesville published a sharp op-ed about their MoC's immigration record and Indivisible groups from Delaware helped get great headlines, too. Thanks to all the groups who stood side-by-side with  DACAmented Americans this week. You should continue to tell your MoCs to stand up for childhood arrivals and co-sponsor S.1615 and H.R. 3591 now using our explainer and script developed in partnership with United We Dream and the National Immigration Law Center.

You can read more about United We Dream's events in Washington and Indivisible Co-Executive Directors' civil disobedience arrest in support of DACAmented Americans on our blog.
Make your voice heard with our Listening Tour. Thanks to everyone who has participated in the Listening Tour! The Listening Tour is an effort by the Indivisible organizing team to learn more about the successes, challenges, and needs of Indivisible groups across the country.
We're closing in on the conclusion of our formal Listening Tour and you should keep your eye out for the conclusions in the early fall. If you haven't had the chance to participate yet, don't worry — this is going to be an ongoing process! In the meantime, if you have not yet participated and want your feedback included in the final report, you can complete this survey.
Quick…the New York Times wants to talk to you! Do you know if they can find you? To make sure our media team can reach you quickly and learn more about ways to plug in with the national press team, please fill out this quick form. We love highlighting the work of local groups to national reporters, and having a reliable way to contact your group makes it so much easier. Check out our media resources here and find us on the Mobilize Media & Press channel. If you haven't yet registered for our group communication platform, you should register now.
Connect us with your fellow Indivisible group leaders. We've heard that there are Indivisible group leaders who don't get these weekly Indivisible group leader emails. That just makes it harder to spread the word on how local groups can have impact. To be sure that group leaders and the Indivisibles on their team are receiving as much information as possible, including calls to action, policy explainers, the read out on our Listening Tour, and new tools and programs, it's crucial that every group leader is on our email list.
Help us get these local leaders in the loop! Share this link with leaders on your team and other group leaders you know. This will allow them to sign up for these weekly Saturday group leader emails. And that will help us get the right information to everyone who needs it — boosting the impact of the movement. Teamwork!
Hold your own empty chair town hall. August is the time when MoCs are supposed to be meeting with constituents so they can be tuned into their most pressing needs and concerns. But less than a third of MoCs are holding town halls — the traditionally most open forum for constituents to talk to their representatives. You can still get the attention of your MoC and the press by holding your own empty chair town hall. Watch this week's August recess video for tips, and learn more in our resource, Missing MoCs Action Plan.
This video is the third in a series of five short videos on recess tactics we're promoting this August. Click here to watch all five videos.
Take a friend to see An Inconvenient Sequel. Over the past few weeks, Indivisible groups in cities across the country teamed up to host exclusive screenings of Al Gore's new movie, An Inconvenient Sequel: Truth to Power. Now, due to popular demand, the Inconvenient Sequel team is offering Indivisibles a buy one, get one free movie ticket to see the film at fandango.com! The film is in theaters everywhere now, so be sure to get to your local theater before it's gone.
Your Code: TRUTHTOPOWER. To Claim Your Fandango Movie Ticket, simply go to Fandango.com or the Fandango mobile app. When you check out, click "Promo Code," enter the code TRUTHTOPOWER, and click "Apply." Enjoy the movie!
During especially taxing weeks like this, we are proud to fight alongside all of you. Your kindness, dedication, and tireless activism keep us going. Thank you for always standing up for what is right.
In solidarity,
The Indivisible Team