September 2, 2017
A Summary of This Week's Indivisible Actions:
Respond to Hurricane Harvey. The communities affected by Hurricane Harvey need immediate disaster aid. Make sure your member of Congress (MoC) is working to provide it.
Defend DACAmented youth. Trump is expected to make an announcement about the DACA program this weekend—and potentially yank the American Dream from 800,000 young immigrants who are living in the U.S. lawfully. Make sure that Congress stops it using our explainer and script.
Stop Trump's tax scam. The next big legislative priority for Republicans is to give massive tax cuts to the wealthy and corporations, at the expense of critical social programs. It's time to fight back against tax giveaways to the rich using our new comprehensive resource: trumptaxscam.org.
Stay vigilant on ACA.

On Friday

, we got news that the Senate Parliamentarian ruled Republicans only have until the end of the fiscal year,

September 30

, to use the FY17 reconciliation bill to pass TrumpCare. There's nothing to act on yet, but this could mean a renewed push to jam TrumpCare through the Senate while they still can.
Tune in to Facebook Live. Join us

on Tuesday

at

8:30 PM ET

when we'll be joined by tax experts from the Center for Budget and Policy Priorities (CBPP) to talk about the upcoming tax fight.
Get camera ready. Following a few simple steps to create a good quality video can make the difference between your footage ending up on Rachel Maddow or getting lost in cyberspace. Watch the video here—and check out our new training doc with fresh tips from journalists on how to get more coverage by building great media relationships.
---
Dear Indivisible Group Leader,
Congress returns to Washington this week, and they have a ton on their plate to finish by the end of September. Congress has to raise the debt ceiling and reauthorize the national flood insurance program and the Children's Health Insurance Program. As if that weren't enough, they also have to agree on a plan to fund the government by the end of the month. Read our preview of what to expect in September here.
We'll be out with tactics to resist this coming week, but in the meantime, start having conversations with your group about these issues. Giving massive tax cuts to  the wealthy by taking away Medicaid, Medicare, and other basic services  are the Republicans raison d'etre, so we have to show that the American people don't want to cut important programs so that corporations and the super wealthy can pay less than their fair share in taxes.
We continue to keep those affected by Hurricane Harvey in our hearts. In the midst of recovering from an unprecedented natural disaster, our friends at Indivisible Houston found time to tell their story in a new IndivisiBlog post. Please consider contributing to one of the many organizations offering various types of aid to Harvey victims. You can find a list of organizations here. There are also legislative asks for your members of Congress in the wake of Harvey, including passing an emergency aid package, reauthorizing the flood insurance program, and fighting climate change. Read our explainer here.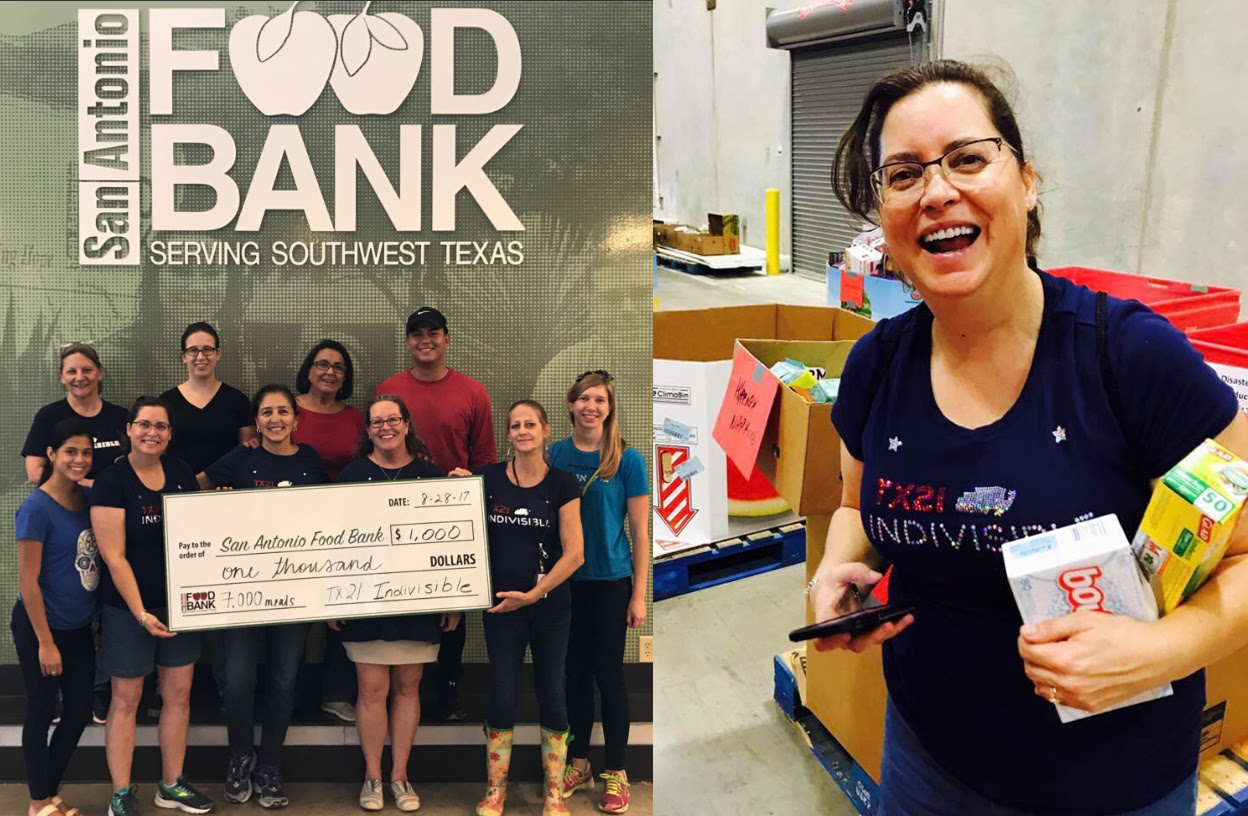 #ResistHarvey. TX21 Indivisible came together to raise money and help send supplies to fellow Texans impacted by Hurricane Harvey.  Learn more from IndivisiBlog posts from Indivisible Houston and Indivisible Golden Triangle about the local organizations your Indivisible group can adopt and support, and other actions you can take to assist those impacted by the storm.
This week on Capitol Hill
They're back! After a month, Congress is back in session this week—and they've got a lot to get through, with few days to work with. Check out our new resource on what to expect this September as they had back to DC. And, here are your priorities for the week.
Immediate disaster aid for victims of Hurricane Harvey. The communities in Texas and Louisiana devastated by Hurricane Harvey need federal support, and they need it now. The first thing that Congress should do when they return is immediately pass a disaster relief package, which needs to fund emergency response, as well as the long-term rebuilding efforts. We have a comprehensive list of asks you can be making of your MoCs here.
Defend DACAmented youth. Donald Trump is expected to make an announcement about—and possibly eliminate—the Deferred Action for Childhood Arrivals (DACA) program. This program has provided relief from deportation to 800,000 young immigrants who came to the U.S. as children, who passed background checks, who paid a fee, and who met several other requirements. Whether Trump eliminates the program or not, Congress can permanently fix the problem. See our explainer for more information.
Fight the Republican tax scam. As we saw in the health care fight, what Republicans really care about are massive tax cuts for the wealthy, at the expense of critical programs that American families depend on, like Medicaid. They failed to get it done through their health care bill, but they're hoping they can trick the public through their tax scam. Don't be fooled—we need to ramp up our resistance to Trump's Tax Scam starting this week. Check out our new comprehensive resource at trumptaxscam.org and help us spread the word.
Stay vigilant on ACA. With the Senate Parliamentarian ruling that the Fiscal Year 2017 (FY17) reconciliation bill does, in fact, expire at the end of FY17 (September 30), that means Republicans have just one more month to jam TrumpCare through the Senate. This is a significant development, but there's nothing to act on quite yet. We'll keep you updated if a need arises again to engage on TrumpCare.
New Training Resources
Build your relationships with the media
By popular request, we've also just published this resource: Tips From Journalists: How To Build Great Connections with Media. It features great insight from a few of the awesome Indivisible group leaders who have professional backgrounds in journalism and will go a long way in helping you and your group up your media game.
Get your group camera ready
These days, video is one of the most compelling ways to get your message across. Whether you're live streaming a rally or recording interviews to use later, following a few simple steps to create a good quality video can make the difference between your footage ending up on Rachel Maddow or getting lost in cyberspace. Shooting good video is especially useful if no TV cameras show up to your event (See: How to Get Press to Cover Your Event), as stations will often use footage sent by event organizers if they're unable to send a camera to capture their own. Share this training video with your group, because you never know who might be in the right place at the right time!

This video is the final in a series of five videos on how to make your voice heard this August recess. Click here to view all five videos and their accompanying resources.
As we say goodbye to our first August recess standing Indivisible, we want to take time to recognize all the incredible activism from our over 6,000 groups across the country over the past five weeks. After all your hard work, we hope you have a relaxing and enjoyable Labor Day weekend with loved ones.
In solidarity,
The Indivisible Team